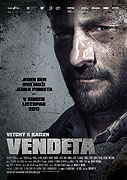 Vendeta
(Vendetta)
Drama / Thriller
Czech Republic, 2011, 86 min
* The information on films and the photographs are
automatically generated from the csfd.cz database.
Na opuštěné mýtině najde lesní správce (Oldřich Kaiser) ležet bezvládné tělo muže (Ondřej Vetchý). Podaří se mu ho vzkřísit, muž si ale nic nepamatuje. Neví, jak se do lesa dostal ani proč je celý od krve a namísto odpovědí z místa uteče. Správce se vydává za ním a postupně zjišťuje, že muž je zapletený do krvavé msty, kterou možná sám inicioval a v níž důležitou roli hraje jeho čtrnáctiletá dcera (Lucie Šteflová). Kromě toho jsou ve hře čtyři miliony korun, dva uplacení policajti (Igor Chmela, Marek Taclík) a trojice mladíků (Ondřej Havel, Daniel Novák, Václav Vostárek), která rozhodně nemá čisté svědomí. V jednom dni, během několika hodin, tak jeden zločin spojí osudy několika lidí. Nic ale není tak jednoduché, jak by se mohlo zdát, protože hranice mezi pomstou a zločinem je velmi tenká.V jednom dni, během pár hodin, spojí pomsta osudy několika lidí. Kdo z nich je vrah a kdo oběť? Ondřej Vetchý a Oldřich Kaiser v hvězdně obsazeném thrilleru, který se vám zadře pod kůži.
CZECH LION AWARDS – AWARD WINNINGS AND NOMINATIONS