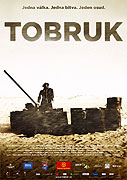 Tobruk
(Tobruk)
Drama / War / History
Czech Republic / Slovakia, 2008, 102 min
* The information on films and the photographs are
automatically generated from the csfd.cz database.
Druhá světová válka, podzim roku 1941. Do Němci a Italy obleženého města Tobruku v severoafrické Libyi jsou odveleni vojáci 11. východního československého praporu. Mezi nimi i mladý voják Jiří Pospíchal. Jeho naivní a idealistické představy o hrdinství a válce jsou syrově konfrontovány s nesnesitelným peklem africké pouště, dennodenním ohrožením života a všudypřítomnou smrtí. To vše si u něj vybírá svoji krutou daň – postupnou ztrátu vlastní sebeúcty a odvahy. Odvaha je síla vůle, které žádný muž nemá nazbyt. Když se používá, brzy se vyčerpá. Odvaha je kapitál, který postupně utrácíme. Poslední rozkaz pak může být příkazem k výplatě z konta, které se blíží nule.Tento film je v hluboké úctě věnován všem československým veteránům a hlavně příslušníkům 11. československého pěšího praporu Východního, kteří po boku Angličanů, Australanů, Poláků a Jihoafričanů na podzim roku 1941 bránili před německými a italskými jednotkami poslední spojenci ovládaný strategický přístav na severu Libye – TOBRUK.
CZECH LION AWARDS – AWARD WINNINGS AND NOMINATIONS