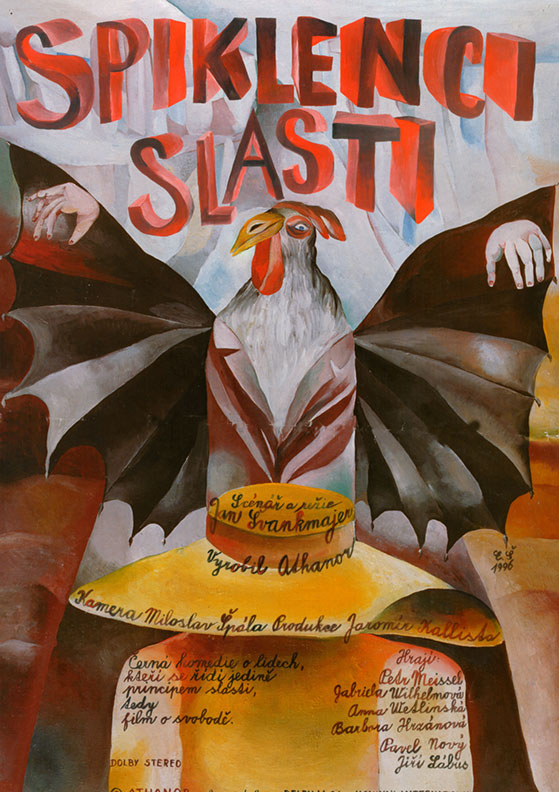 Spiklenci slasti
(Conspirators of Pleasure)
Comedy
Czech Republic / Switzerland / Great Britain, 1996, 85 min
* The information on films and the photographs are
automatically generated from the csfd.cz database.
Jednou z hlavních postav slavné alegorie Jana Švankmajera je utrápená listonoška (Bára Hrzánová). Surrealistická koláž začíná v trafice, kde si další z podivínských hrdinů koupí obscénní časopis. Z vystříhaných nahotin vyrábí pomůcky pro sadomasochistickou seanci. Také další dva spiklenci slasti se projevují jako vášniví kutilové. Upocený trafikant (Jiří Lábus) sestavuje neobvyklý aparát, tajnůstkářský frotér (Pavel Nový) si vytváří dráždidla pro autoerotické masáže. Velmi zvláštní jsou rovněž sexuální praktiky žen, mezi nimiž figuruje také půvabná televizní hlasatelka (Anna Wetlinská)... Mistrně zaranžovaný kaleidoskop vypráví o novodobých vášních a perverzích. Mozaika, v jejímž finále někteří zemřou a jiní si prohodí své role, je unikátním průhledem do lidského podvědomí. Je také jízlivou satirou o současném světě plném erotických fetišů.
CZECH LION AWARDS – AWARD WINNINGS AND NOMINATIONS