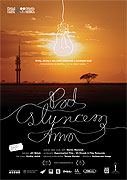 Pod sluncem tma
(Solar Eclipse)
Documentary
Czech Republic, 2011, 81 min
* The information on films and the photographs are
automatically generated from the csfd.cz database.
Milan a Tomáš, dva čeští rozvojoví experti, se naposledy vracejí do odlehlé zambijské osady Masuku, kde před čtyřmi lety elektrifikovali areál školy a nemocnice. Postupně zjišťují, proč některé části systému nefungují, a snaží se vše během hektických dnů i černočerných nocí opravit a finálně předat. Zažívají zkraty všeho druhu, míjení a prolínání různých světů, ale i oslavné rituály vděčnosti. Pod sluncem tma vtipně a naprosto otevřeně sleduje úskalí rozvojové pomoci. Je příběhem pokusu předání evropské technologie a odpovědnosti, ale i "zlatých českých ručiček", které si dokáží poradit i uprostřed Afriky.
CZECH LION AWARDS – AWARD WINNINGS AND NOMINATIONS
2011 | Film reviewers award for best documentary |
Martin Mareček
NOMINATION