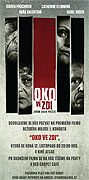 Oko ve zdi
(Eye in the Wall)
Thriller
Czech Republic / Slovakia, 2009, 80 min
* The information on films and the photographs are
automatically generated from the csfd.cz database.
Thriller podle předlohy spisovatelky Ivy Hercíkové s mezinárodním obsazením v čele s Karlem Rodenem a Jürgenem Prochnowem.Stárnoucí manželský pár mohl prožívat laskavý podzim svého života nebýt škvíry ve zdi, která odhalila tajemství, které navždy změnilo jejich životy. Tajemství, které se stalo noční můrou. Tajemství minulosti... Může minulost zabíjet? Milenecká dvojice vstupuje jednoho vlahého a deštivého rána do opuštěného domu, který si ona vybrala jako místo schůzky. Mohlo to být docela obyčejné rande. Při prohlídce vstupují do místnosti, kde je pouze malé okénko a jen jedny dveře. Z ničeho nic se dveře zavírají... škvírou ve zdi je pozoruje oko. To oko nevěstí nic dobrého!