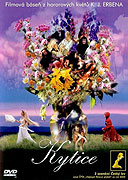 Kytice
(Bouquet)
Drama / Horror / Mystery / Romance / Fantasy / Anthology / Poetic
Czech Republic, 2000, 81 min
* The information on films and the photographs are
automatically generated from the csfd.cz database.
Uvidíme sedm vypjatých příběhů o touhách, posedlostech a sobectví Inspirací filmu byla sbírka balad českého autora 19. století K. J. Erbena, jehož tvorba je paralelou k poezii E. A. Poea, plná vášní a přízraků. Kytice poprvé vyšla v roce 1853 a patří k základním dílům národní literární klasiky. Spoluscenáris-ta, kameraman a režisér filmu F. A. Brabec natočil dílo vycházející z originální výtvarné stylizace a akcentující vytříbenost jeho obrazového vidění. Vedle strhující vizuální složky je další dominantou této filmové básně o básních hudba J. Jiráska. Výjimečnou kameru, hudbu a zvuk (J. Klenka) ocenila ČFTA Českým lvem. Film byl nominován ČFTA v sedmi kategoriích včetně nejprestižnější nejlepší film. Producentkou filmu a spoluautorkou scénáře, ve spolupráci s M. Macourkem, je úspěšná herečka Deana Jakubisková-Horváthová, manželka významného česko-slovenského režiséra Juraje Jakubiska. Jeho plakát ke Kytici byl oceněn jako nejlepší v roce 2000. Kytice se zařadila k divácky nejúspěšnějším domácím filmům posledních let.
CZECH LION AWARDS – AWARD WINNINGS AND NOMINATIONS