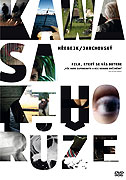 Kawasakiho růže
(Kawasaki)
Drama
Czech Republic, 2009, 95 min
* The information on films and the photographs are
automatically generated from the csfd.cz database.
Kdo může posuzovat minulé viny? Kdo je může odpouštět? Může jim čas obrousit hrany? Nebo pokání, jímž se viníci posléze pokusí spasit? Drama Jana Hřebejka podle Cenou Sazky oceněného scénáře Petra Jarchovského vytváří spletitý řetězec podobných otázek a nabízí celou škálu často protichůdných odpovědí. Středobod příběhu tvoří postava renomovaného psychiatra (Martin Huba), morální autority, který má u příležitosti výročí založení republiky získat významné státní ocenění. Právě připravovaný slavnostní akt se stane katalyzátorem událostí, které na povrch vyplaví hříchy minulosti, jež mu můžou zlomit vaz.