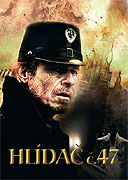 Hlídač č. 47
(Guard No. 47)
Drama / Thriller
Czech Republic, 2008, 108 min
* The information on films and the photographs are
automatically generated from the csfd.cz database.
Distribuční film České televize, který vznikl na motivy románu Josefa Kopty. Scénář k filmu Hlídač č. 47 je poslední scenáristická práce známého televizního autora Eduarda Vernera, který zemřel v roce 2003. Eduard Verner ve svém textu vyzdvihl téma bolestného údělu člověka, který, ovlivněn a poznamenán hrůznými válečnými zážitky, doufá, že ve svém dalším životě najde díky lásce, přátelství, práci a rodinnému štěstí ztracenou rovnováhu. Josef Douša je železniční hlídač, který jednoho dne zachrání mladého muže před skokem pod vlak. Zachráněný muž se ovšem po incidentu zamiluje do Doušovy manželky. K tomu všemu ztrácí hlídač Douša načas sluch. Ačkoliv se mu sluch za určitý čas vrátí, předstírá Douša i nadále svoji hluchotu, aby zjistil, co si o něm, i o tušeném vztahu jeho ženy k Ferdovi, lidé říkají za jeho zády... Velký lidský příběh oslovil i zkušeného a talentovaného režiséra Filipa Renče, kterému se scénář Eduarda Vernera dostal do rukou před několika lety. Režijní scénář Filipa Renče a Zdeňka Zelenky podtrhuje dramatičnost předlohy a posiluje i domýšlí osobní vazby všech hrdinů.