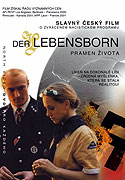 Der Lebensborn - Pramen života
(The Spring of Life)
Drama / History / Romance / War
Czech Republic, 2000, 107 min
* The information on films and the photographs are
automatically generated from the csfd.cz database.
Silný a strhující příběh české dívky Grétky Weisserové odkrývá skrytou tvář zrůdného programu Lebensborn, kterým chtěl druhý muž Třetí říše H. Himmler zajisti vůdci dokonalé, rasově čisté potomky. Vybrané dívky procházejí nacistickou převýchovou a o Valpuržině noci mají plánovaně otěhotnět s vybranými esesáky. Grétka se snaží vzepřít svému osudu a po příjezdu do sanatoria na břehu velkého jezera se zamiluje do židovského chlapce Lea, syna bývalého majitele, který se zde skrývá.Film byl oceněn na domácích festivalech (Zvláštní cena poroty Plzeň 2000, Velká cena Zlín 2000) a získal ohlas diváků i v zahraničí (AFI FEST Los Angeles, Berlinale - Panorama 2000).