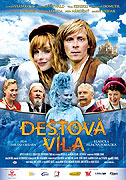 Dešťová víla
(The Rain Fairy)
Fairy Tale
Czech Republic, 2010, 96 min
* The information on films and the photographs are
automatically generated from the csfd.cz database.
Živly, které ovládají zemi - Vzduch, Oheň, Země a Voda - provádějí "pravidelnou inspekci" u lidí. Za všechny živly sledujeme Vodu, které lidé říkají Dešťová víla. Jde krajem převlečena za chudou ženu. Pozná, že lidé začali myslet hlavně na peníze, že se vytrácí láska a dobro. Mezi takové lidi patří i sedlák Lakota (Miroslav Donutil), jehož syn Ondra (Jakub Gottwald) miluje chudou Květušku (Éva Kerekes). Jejich lásku ale sedlák nerad vidí. Když se živly vrátí ke Slunci, žádají tvrdé potrestání. Slunce váhá, ví, že lidi jsou lidi, a i přes chyby je má rádo, ovšem je přehlasováno. V poslední chvíli mu pomůže Dešťová víla (Lenka Vlasáková). Požádá Slunce, jestli by nemohla lidi potrestat sama a vezme lidem déšť. Kraj sužuje sucho. Lidé nemají co sklízet, obilí neroste, sena jsou skoro spálena. Lakota využije situace a slíbí Ondrovi, že si může vzít Květušku za ženu pod podmínkou, že Květuška zařídí déšť. Ta se pak vydá za Dešťovou vílou a musí splnit tři úkoly. Úkoly to budou těžké, přetěžké a ani po jejich splnění nebude mít Květuška s Ondrou vyhráno. Lakota je nenapravitelný... Ale nebojte, nakonec dobro a láska zvítězí, jak už to v pohádkách bývá.