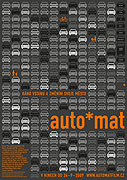 Auto*mat
(Auto*Mate)
Documentary
Czech Republic, 2009, 90 min
* The information on films and the photographs are
automatically generated from the csfd.cz database.
Ovládáme město nebo město ovládá nás? Stáváme se automaty? Je pražský primátor spíše cyklista nebo populista? Jedeme v tom všichni? Inspirující, emotivní a vtipný dokumentární příběh režiséra Martina Marečka hledá hravým způsobem odpovědi na otázky související s životem ve městě, civilizací v pohybu a dobrodružnou cestou ke změně. Osobní příběh režiséra a jeho pokusu proměnit město kolem sebe.