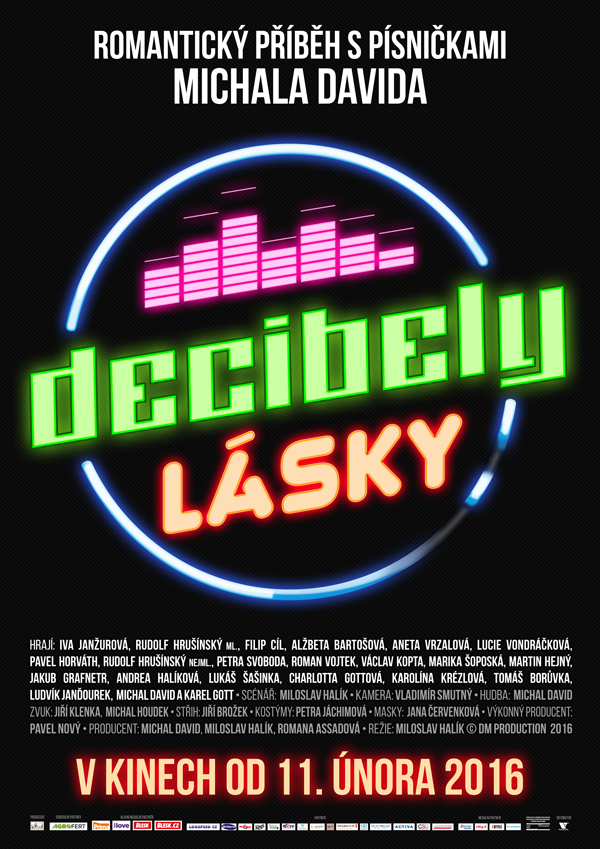 Decibely lásky
(Decibels of Love)
Comedy / Musical / Romance
Czech Republic, 2016, 91 min
* The information on films and the photographs are
automatically generated from the csfd.cz database.
Decibely lásky jsou příběhem tří generací, které prožívají své touhy, sny, naděje i zklamání, a přitom nepřestávají věřit na lásku, přátelství a lidské souznění. Okolnosti se mění, ale věčná touha milovat a být milován zůstává.Mladý umělec Dan (Filip Cíl) sní o úspěchu, ale zatím si odpykává veřejně prospěšné práce při úklidu města. Jeho šéfem je Kristián Hovorka (Rudolf Hrušínský nejml.), který spolu s Otou (Pavel Horváth) pracuje v Technických službách na Plzeňském magistrátu, kde mají na starosti úklid města. Dan se na diskotéce seznámí s  Betkou (Alžběta Bartošová), Kristiána zaujme Danova pohledná sestra Danka, která za bratra stále žehlí jeho průšvihy. Ne všechno ale vychází. Betčina nepřejícná kamarádka (Aneta Vrzalová) a její přítel Robert (Jakub Grafnetr) se rozhodnou vše zkomplikovat nefér hrou. A zatímco Danka s Kristiánem hledají cestu, jak konečně zakotvit "v neklidných vodách života", tak Kristiánův táta Láďa (Rudolf Hrušínský ml.) a Betčina šarmantní tetička (Iva Janžurová) dokazují celému světu, že věk je pouhé číslo. Kristiána navíc čeká, spolu s nápravou dávné křivdy, jak mu to radí jeho nejlepší kamarádka Lenka (Lucie Vondráčková), i nalezení "cesty" k dceři Jitce (Marika Šoposká).